AIRCRAFT EXTERIOR WRAP
READ MORE

SEATBACK DEVICES
READ MORE

MEAL TRAY GRAPHICS (INTL.)
READ MORE

MEAL TRAY GRAPHICS (EXTL.)
READ MORE

OVERHEAD BINS
READ MORE

BULKHEAD WALLS
READ MORE

SKYLINE PANELS
READ MORE

PRODUCT SAMPLING
READ MORE

MEAL TRAY CARDS
READ MORE

BEVERAGE CUPS BRANDING
READ MORE

HEADREST COVERS
READ MORE

AIRCRAFT EXTERIOR WRAP
✕

Seatback Devices
✕

Meal Tray Graphics (Internal):
✕
Advertising on the entire interior of the tray creates high brand recall due to its uniqueness and 70% of the passengers remember the brand even after the journey. Teaser graphics can be placed on the upper right hand corner on the outside of the tray table. This increases the visibility of the media even when the tray is not opened and encourages more passengers to open the tray table to view the entire message.

Meal Tray Graphics (External):
✕

Overhead Bins
✕
Going from the front to the back of the cabin, overhead bins present a one of a kind large format media to brand upon. A 360-degree vision of a brand can be seen throughout the fight and so has the highest recall. With numerous options, you can now create a storyboard, promote multiple features, and engage audience with maximum attention!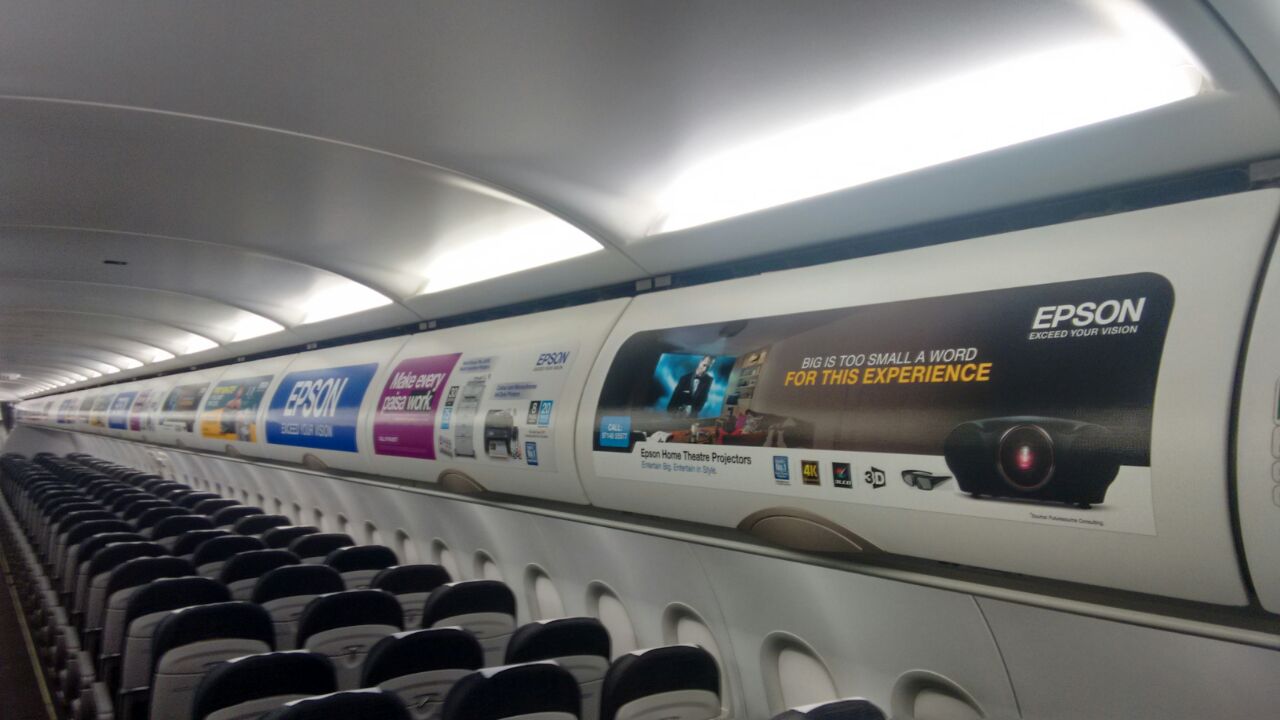 Bulkhead Walls
✕

Skyline Panels
✕
Skyline Panels, visible throughout the flight starting from the front of the cabin to the back, are placed strategically just below the cabin lights. This makes them perfect for backlit advertising irrespective of whether it's a day flight or night. They get all the attention and are appropriate for a storyboard, to promote multiple features and each panel can have a different creative.

Product Sampling
✕
Engage your audience with your products with firsthand experiences. When airline passengers get a taste of your product, they are more likely to endorse it, consider buying it and share it on social media. Product sampling experiences lead to goodwill for the brand and provide an amazing recall value from its target audience what with the plethora of options available to explore.

Meal Tray Cards
✕

Beverage Cups Branding
✕